Los tesoros de la Ayalga: floral crowns and tiaras for fairy queens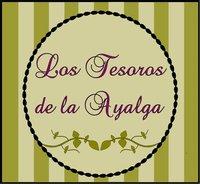 Los Tesoros de La Ayalga (the treasures of the Ayalga) is a brand new cute store featuring the loveliest headpieces. The two crafters behind are sisters and come from the enchanted wild and evergreen land of Asturias where "Ayalga" means "ancient hidden treasure, or place where it's buried and is also used there to refer to the Nymphs).
Right now they're operating only as a facebook based store where they upload their products listings and price. Most of the items range from 15-25 Eur plus shipping which make them not only gorgeous but also affordable considering the materials, love, imagination and time invested in each one of a kind piece. I make sometimes for myself this kind of headpieces and I know the work and the materials... they are really worth and at a fair price... so didn't you always want to be the Queen of the Forest?
They also encourage to contact directly by e-mail to make commission orders contacting at lostesorosdelaayalga@gmail.com
Faux branches and spirals, leaves, flowers... colors of the seasons for fairy and forest dwellers.
Some examples below: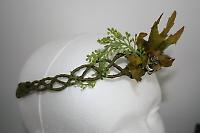 Green Braid: I love the celtic braid that mimic a knotted branch and autumn color
This white and ivory floral headpiece called "peaceful" would delight any bride! and it's ideal for spring fairies and weddings.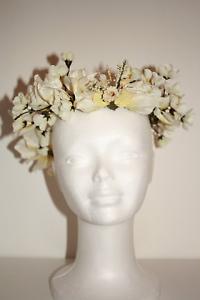 Below you can see the model that I've picked for myself... dying for it to arrive! :) It's in grey silver and I am thinking of using it for a photoshoot for "in the mist" It's called "treasure" and I'll certainly will treasure it.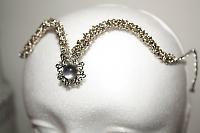 Above: Treasure... oooh I'll be the happy owner!
Update: I got it and it´s pretty, this is a pic of myself with it on , used it also for a concert!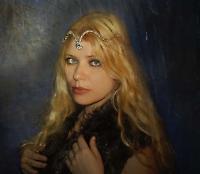 As I say they also make aside of the fantasy items jewelry and pendants in which they can transfer pictures of your most beloved ones so you can carry them everywhere... They were so gentle to make a pendant with my long lost Kira and my hamster Totonika!! Thank you!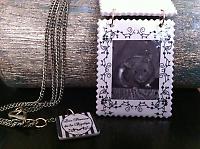 Above: my hamster Totonika in a custom pendant... so cute!
Submitted on 2010/Oct/27