Regalia Designs: Amazing fantasy headpieces and fascinators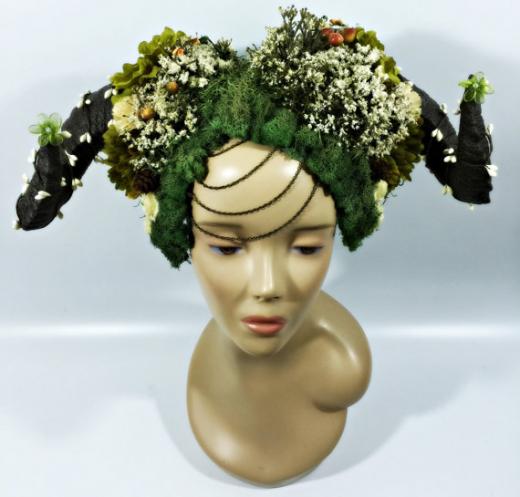 Above: Horned headpiece with moss made by Regalia Designs... simply gorgeous for nymphs and forest sprites.
I found out Regalia Designs through a giveaway contest they held in their instagram account. I wasn´t the lucky winner but I joined their account to watch their lovely collection of headpieces, fascinators and also the gorgeous pictures alt photographers and models with them they share. Founder by Nicole Carter in 2009 Even if some of the pieces feature feathers and bones, there is a bold statement in their sites that even if it's less affodable they do only use CRUELTY FREE sources. So rest assured no animal was injured for them.
Using delicate combinations of vintage rhinestones, feathers, fabric flowers, silk, Swarovski crystals, pearls, lace and other materials, each piece is meant to be unique and and crafted with high quality materials.
The site also includes a section so you can make a custom order, so if there is something in your imagination you would like to be made, they're open to read your request.
Wether you are an alternative bride looking for a different kind of fascinator, or you're looking for a striking piece for a fantasy shoot, you will find all sorts of intricate pieces. Some very affordable by the way.
Below: some fascinators, one lovely earthly one with acorns and the other with steampunk undertones.
Besides the headpieces, they also feature some mini-hats and even bellydance attires.
The ones with earthly colours, ivory flowers and moss are my favourites but if you are looking for something colourful and striking, you would likely find it. Some with a northern celtic vibe, others with a clear and distinct fire-vibrant oriental note. Others frosty and delicate.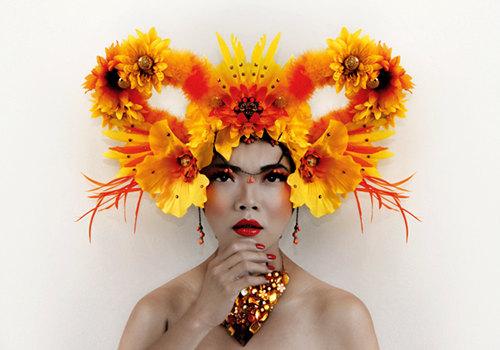 Below some links to Regalia Designs network, so you don't miss past items, works in progress, not to miss their giveaways and so forth! :)
WEBSITE: www.regaliadesigns.com
FACEBOOK: facebook.com/regaliadesigns33
TWITTER: twitter.com/regaliadesigns
TUMBLR: regaliadesigns33.tumblr.com
PINTEREST: pinterest.com/regaliadesigns
INSTAGRAM: instagram.com/regaliadesigns33
Below, creator Nicole wearing one of her own pieces. Love all the beads in front, they almost look like spider eyes to me, which I love. :)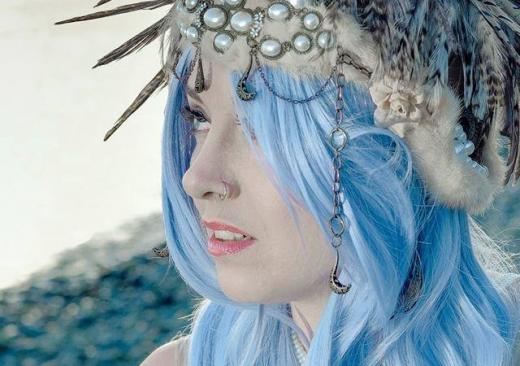 Edit: I just got this lovely surprise in my mailbox, so below you can see two lovely hairpins I received from Nicole, and me wearing a lovely purple moss hairpin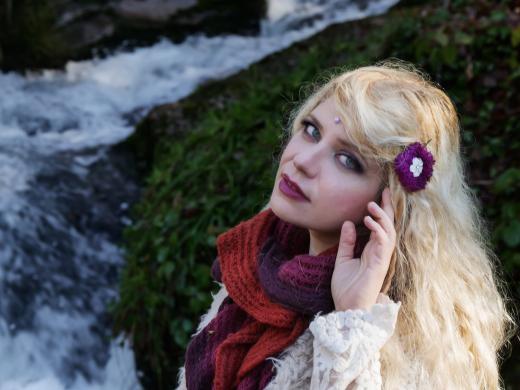 Submitted on 2016/Jan/03