Merimask: fine leather fantasy masks

Always searching for new ideas Merimask is a self taught leather mask maker from USA. You can watch a big gallery of her masks at the crafter Deviant Art gallery where you can contact her to commission a mask and get a custom made done, or you can browse her Merimask etsy store to see the items ready to ship (in case that you can´t wait!). She´s worked for theater works in Japan (and in fact many of her models seems to be nourished by japanese folklore and even anime) and also for Ralph Lauren and Circus du Soleil.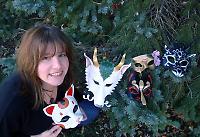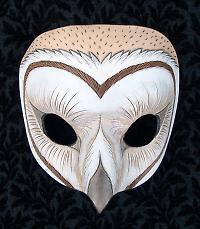 This is my favorite :) (along with the wolves :). I like the dragons too!! Difficult to choose! I'd love to commission a viking design white wolf for my videoclip... or maybe get the barn owl... arg!! By the way this barn owl is a nice addition to those ones attempting to dress like Jareth, refresh your memory reading our article about Jareth, the Goblin King) of along a wintery hood and snow landscape. Nice barn owl masks are a rare find!
The masks are hand carved from one piece of 8oz leather, hand shaped, and painted with Liquitex acrylics
Don´t worry if you see an item is sold... if it was ever done, she can custom made it to you.
Some example of dragons, there are some very ambitious "chinese dragon" and asian motifs.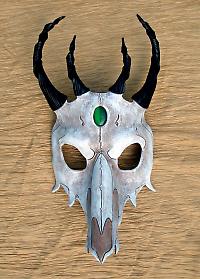 Above: Skull dragon mask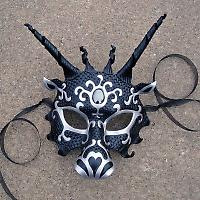 Above: Chinese dragon mask in black and silver.
But there is more... Ancient Egypt deities, animals, accessories...

There´s a limited number of each model being done, but really there are no two items are alike. Each is a signed, dated (in some cases, numbered) piece.
For Steampunk lovers here you have as example a custom pair of masks done for a wedding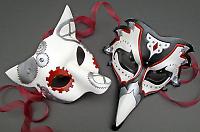 You can also network and be up to date with her latest news at her facebook page
Submitted on 2010/Sep/30