Into the Labyrinth: The realm of the Jareth, mighty Goblin King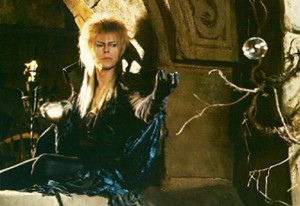 Jim Henson's Into the Labyrinth is one of my favourite movies. When I was a little girl of course like many other women in my generation I was deeply in love with Jareth the mighty Goblin King (sigh!!) Yes, Jareth was one of the best and coolest characters ever... and we, the girls wanted every prince of our dreams has his bitter spice, or be Sarah... to end the movie quite differently (evil green). Isn't he sexy?
So to start with...
Do yourself a favour and rent or buy Labyrinth dvd... it's pure magic...! That way you'll see the different garments The Goblin King uses, as he changes quite often... still we'll cover in this post a few basic elements of his character...! And if it's a guy reading this... be aware that we girls raised in the eighties think that Jareth is the hottest thing on earth... so take note!

There are several versions of Jareth's pendant out there for collectors, the cheapest and easier to find option is the one below, a not so high quality replica, but will do for your costume and for collectors :) as the official "toy replica" of the Goblin King pendant...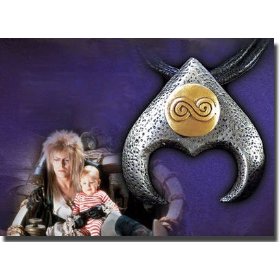 If you want a version of the pendant made by a crafter of if you are a labyrinth lover, you'll be amazed by this site, EYEFEATHER, this crafter not only list several models of the pendant but also the most gorgeous labyrinth masks (including the one that Jareth wears as well as other characters from the movie) with incredible accuracy and detail! Just check yourselves in awe! These are the best Laby props I've ever seen! Judge yourselves!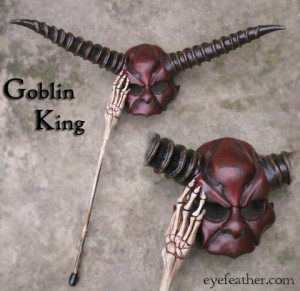 Bronwyn, which is the name of this talented crafter, has also some other "goblin mood masks" like the ones the people wear in the labyrinth ball, and also other characters from the movie...! she has even the cute worm in real scale that you can wear on your shoulder!!!! I want them all.....!!!!


Jareth hairstyle is pivotal to make the character recognizable, for the wig, making a search for "punk wigs" or "Tina Turner" wig will do like one below, using some temp dyes to add some blue highlights will do the rest.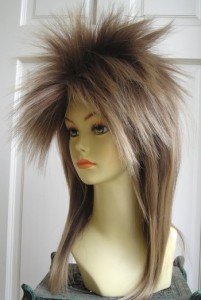 At this point, you're getting within the character... and of course, what would impress everyone? Jareth was always messing with some crystal balls, they were symbols of his magic powers... so adding some contact juggling balls and a few lessons (there are dvds to teach you the basics and inexpensive acrylic balls) will provide depth to your representation... besides.. It's so cool!!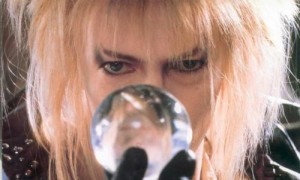 The Dark Angel Shop (previously featured in its own article) features a "Jareth vest" a double breasted waistcoast and some shirts and cravats in Jareth mood to choose from .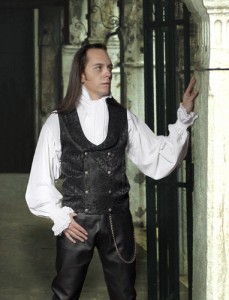 In time for a final touch.... ? You should know that Jareth has mismatched eyes, one green-hazel brown and the other one blue...! We previously covered some fx contact lenses so all you have to do is to purchase a single blue and green and get that magical odd look of his! One recommended site is this one: FANTASY CITY CONTACT LENSES, and check the "Venus collection"
Then your pair of black leather gloves and ready to go! I recommend this site to get some high quality ones "Revival clothing"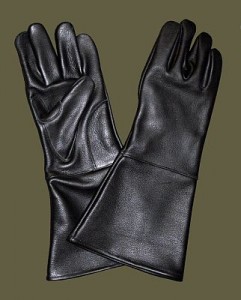 There is simply so much about Labyrinth, Jareth, Sarah and its creatures that one single post is not enough, not even for a first approach... but well we´ll follow soon with more about this movie...!
The light gray leggings can be a bit tricky to find... specially cos the distinct trait is that they are really high waisted... thus it´s better if you can make them yourself, if you see to pictures in the movie you'll see there is a pattern dyed on the fabric as well that you could easily could make with diluted fabric paint or a fabric marker. Another option is to go for "riding pants" though they're easily found in a gray that tend a bit darker that the one in the movie. Definitely some black horse riding pants would do for the Escher version of the dress.
Here you can see a store of equine fashion that sells horse riding pants in several colors (that you could die or pick the most approximate) but sure you can find also much more affordable as well.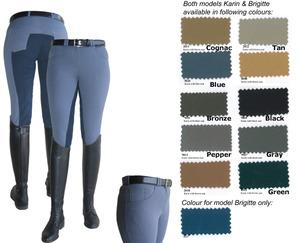 Above: horse riding pants
Here I show you a video that give you some tips to make up your eyebrows in the fashion of Jareth (without shaving them ! LOL), the make up and hairdo of jareth make most of the costume, even if you go in a more "casual" version you'll be recognized.
Of course one of the best options to go and show your labyrinth-inspired garments is the Labyrinth of Jareth Masquerade Ball that takes place every year in LOS ANGELES!
Submitted on 2008/Jul/07