Fins and props to become a mermaid 1,2,3 splash!!
Otter bay suits is a company specialized in professional swim suits with the sape of a mermaid, these are suitable for diving, like the ones below.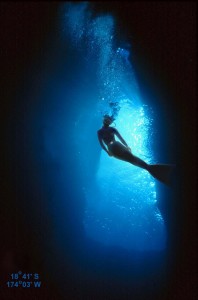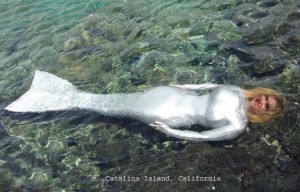 If you're good at crafts here's a tutorial about how to do-it-yourself
The Tempo is specifically designed for women's fitness.   The fin blades are constructed with a hard rubber material to enhance stroke efficiency. The Tempo is adjustable to fit several  women's shoe sizes , has a built in safety release mechanism and floats on water. It can be found in many sports shops. The same brand works model for children (finis wave) and men (finis rapid).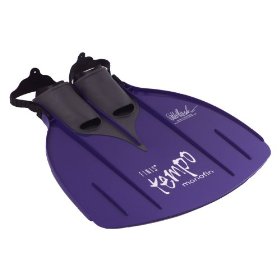 For children the "swim fin" is an inexpensive monofin model for children that can be later easily adaptable into a mermaid fin.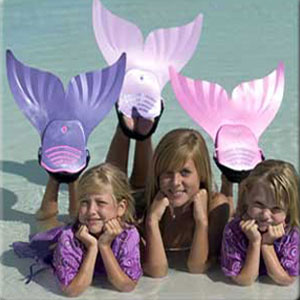 Another website that sells monofins and also the mermaid fins already finished emilyangelfish.
Also you can see this  youtube video of a girl that shows some tricks about how to make a fin
Having a monofin you can purchase (or make yourself) the fabric part, here's a site called Merfolk tails where you can get some ideas, or even buy the fin wrap. They make customized models for several sizes of monofins and feature other informations as well: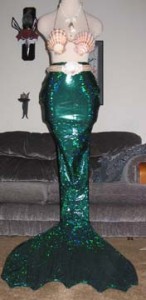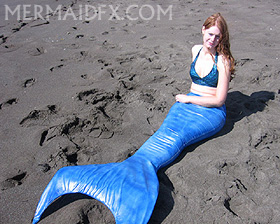 Above: an example for Mermaid Fx that offer fin props in two styles "siren" and "mertail"
If you need to rent (also along with some other props like dolphins) you can have a look to Mermaid rentals, they feature a nice gallery of hand painted fins prosthetics  with iridescent colours  that will look pretty underwater too.  They also make clam and scale bra. These ones look more professional and some models reminds me to the movie 1,2,3... Splash! a lovely comedy from the eighties featuring Tom Hanks and young Daryl Hannah as a gorgeous blonde mermaid.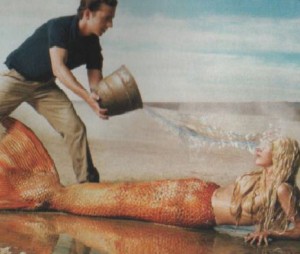 Above: one of the models for rental, very similar to Splash, add a long blonde wig and you're done!
About final details it's all up to you, there are a wealth of make up ideas in youtube, but be sure your make up is water proof if you intend to make wet shots, still for aerial here's for example one  that you may find inspiring
Add fake pears, plastic scales or other beads to cover your chest (you can also make your own sea-shell bra or find it in any halloween custom store very inexpensive, beads and fake coral branches and shells to your hair, everything is allowed  for the final touches. Feel sultry and alluring.... Feel like a siren.
Submitted on 2009/Oct/16