Bibian Blue: dark clothing with vintage spice!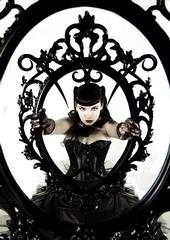 Bibian Blue is a fashion designer based in Barcelona. So as it's my city, I have the luck to be able to visit the store and spend a time in awe with her awesome dresses and gowns. From XVIII Maria Antoniette's style tops and corsets to prom skirts with full petticoats. The variety of designs, moods and fabrics is enormous and every piece full of fantasy and imagination and all spiced with a "vintage" lovely mood. If you like almost any other style from fetish to cyber-wear (that I'm not so familiar with) she has also plenty of examples.
If you happen to be able to visit the store (Barcelona, Spain) you can order a custom-made piece or get couture made from the artist self that indeed knows how to treat a client with her kindness and closeness, in any case these are all hand-made and quite exclusive, not cheap, but reasonable quality/price ratio. Just in case you're in a hurry to get a lovely dark-edge cinderella gown for the ball, a must stop to consider. If you are not so lucky you can visit her online store (also in english) and dive in part of her catallogue. I've used some of her gowns on stage as we´ve made some endorsements, so you can see here a video of me wearing a black corset of her in concert, In fact i'm off to grab my new corset from there!! can't wait to try it! shall use it in one of my upcoming concerts! I shall include some pictures in the gallery soon!
Submitted on 2008/Jun/13