Phantom lovely: embrace your elegant dark and ghostly side
A self-taught artist and native of New England, Leila Marlene was always attracted to the spiritual world and all other things at the other side of the Veil. Her work spans multiple media from fine art and illustration to photography and fashion design. Leila Marlene draws her inspiration from a lifelong interest in the occult, witchcraft and supernatural lore. Through her art she endeavours to unlock secrets of unseen worlds, invoking through the creative process evidence of their reality and thus she ended up creating her own fashion line Phantom Lovely with jackets, coats, apparel and accessories with her own original patterns which is obvious ghostly, eerie, fluid and above all very wearable and elegant. A must check for gothic souls (in pitch black) but also open to other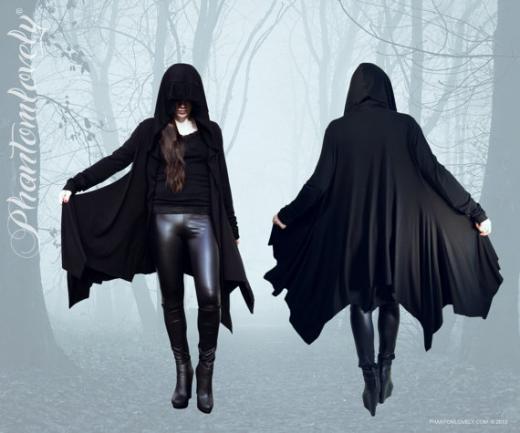 Above: Phantom Lovely and dramatic looking "Darkness" asymmetrical hooded jacket coat. Mysterious, elegant and flowing will make you look like a fleeting shadow. I think it would be equally lovely in white. It has a subtle "Underworld" look, don't you think. Great for urban vampires too.

Although it's obvious by the pictures she has a preference for black (girls, you know black also makes you look slim, right?) You can custom order in other colors too besides black in soft eco-friendly modal or bamboo jersey fabric in many they are available in white, cream, grey, sage green, mocha, plum, teal, navy, cranberry and others by request. I'd say white is equally ghostly and brown and green would do well for Steampunk and Fairy creatures, the asymmetrical pointy patterns make them timeless and fitting for almost every style. Custom not ready to ship orders can take 3-4 weeks. They also have loyalty programs so you get discounts with multiple purchases.
Catalogue is still a bit small but I'm sure with all the positive feedback the collection will keep on growing. Feedback from customers ensure we´re talking about wearable and cozy garments with good finish and high quality fabric.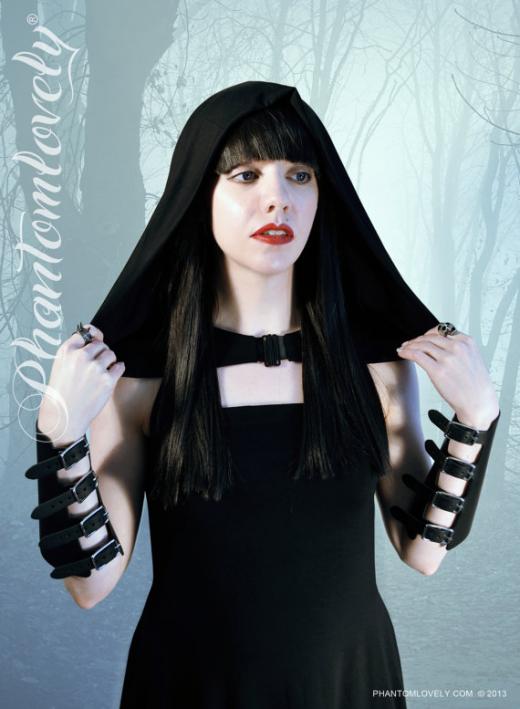 Above: Hood made by Phantom lovely
If you want to support Leila´s creation feel free also to network with Phantom lovely at facebook where you can be aware of updates, special offers and a wider portfolio.
Submitted on 2013/Aug/26