How to dress like Legend of the seeker Mother Confessor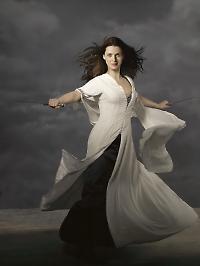 "The legend of the seeker"
(2008-2010) is a fantasy/sword and sorcery television series based on the sword of truth series written by Terry Goodking. It Though I confess I couldn't see myself the entire tv series what I do remember is the really glorious white pretty dress of one of the characters had, Mother Confessor Kahlan Amnell performed by Bridget Regan . The confessor wears in white to symbolize the truth and though it looks like a medieval gown, it´s more an overcoat allowing smooth fighting movements. With a hood a bit reminiscent to Jedi fashion and those long floating sleeves the result is really striking. Supernatural looking but comfortable. Despite not being a great fan of the series (maybe because I didn't catch it at the right time when being aired) all shots of the actress purely white in the dark forests are striking!. The highlight of the garment is a laced front that makes it very sexy ;-) as a Halloween, fantasy con or Cosplay option.
Here´s a tutorial of how to make it (if you feel crafty at sewing. Doesn't look like a complicated one, though you may pay attention to the fabric chosen. The movement of the dress in the series is important, and thus stay away of any cheap-looking shiny crushed velvets and opt for a flowing matte ivory-white color. Here´s a link with some advices of
How to make a Kahlan dress yourself
They use as a basis for the main body and long sleeves a pattern that I had (yayy) had previously purchased myself so I'm definitely going to give a try myself. The sewing pattern in question is
McCal M4491 Renaissance Medieval Gowns
. (this works too for making quite a few LOTR medieval dresses too by the way)

There's a shop in Etsy called "Trapped in time designs" that also makes custom and already made Kahlan white overdress as the picture shown below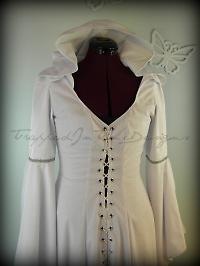 Crinoline_2009
in ebay sells a rather lovely replica made on good quality white velour of the white overdress (and also in black! which looks great by the way. It lace up front and back fitting your silhuette perfectly. They list also "Legend of the seeker" inspired items too.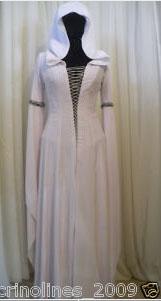 Above: White overdress ''Mother Confessor'' of the popular television series ''Legend Of The Seeker'' made by Crinoline_2009
Beautiful long dress with a very large hood covering the shoulders, lace-up front and back to fit perfectly to your silhouette.Very long sleeves, split front,pretty black and white trim around the arm. And also available in BLACK if you simply love the design but you are a gothic "I love black despite all things"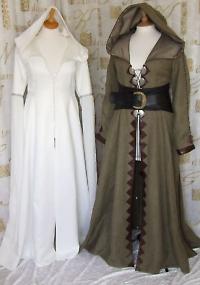 Legend of the seeker tv series sadly only run for two seasons, but the beautiful costumes lasted long in our memory.
Submitted on 2011/Jul/14