Facets of Avalon: amazing fae collars and painted silks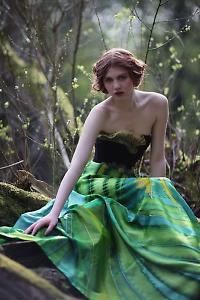 Above: Fae skirt with painted silk and corset by Facets of Avalon
Facets of Avalon created back in 1999 is a boutique based in Glastonbury (UK) that showcase the combined talents of mother and daughter team daughter team Jan Billings and Rachel Reilly rendering exquisite pieces of wearable art.

Jan specializes in silk paintings. She paints freehand rendering one of a kind pieces, inspired in natural patterns, plants, butterflies, moths...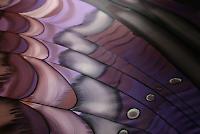 Above: Painted silk pattern imitating a moth wing
Rachel makes the most amazing accessories and wired standing collars, standing ruffs and other complements using lace, feathers and other materials. Swirls and intricated patterns to complement the complexity of the silk patterns. Some even with galaxy and fractal... The overall result is organic, flowing, and never static.
Below: Snow queen collar (i'm in LOVE with this one!!)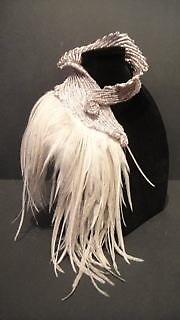 Contact:
1 Archers Parade Glastonbury Somerset BA6 9JA UK
(0044) 01458 830003 07837 194 771
jan@facetsofavalon.com ; rachel@facetsofavalon.com
Submitted on 2011/Mar/18