Emerald Forest Enchanted Designs wearable fairy and bridal fashion

Enchanted Emerald forest designs by Emerald fairy is a modest shop based in Australia that feature the creations of the "emerald-fairy " Lynn a bookeeper that found her passion for fashion and sewing back in the middle nineties and settled with success since. From what's read in her site, we´re talking about a very friendly and nice person that invest great love in what she does and I bet really easy to communicate with. Emerald forest designs advertises as "your online sewing fairy for special occasions".Some of the items are available in large sizes as well as small. Dresses,Skirts,Tops,Jackets,Medieval,Gothic,Gypsy,Renaissance,Celtic Fashions, bridal, pirate and more
She also takes commissions to custom made to measure for a perfect fit.
You can see some auctions of Emerald forest in ebay and see their portfolio at their official site.
The collection of items is quite disperse, and though some of the items were not of my entire taste (maybe because i'm not very fond of crushed velvet if in certain colors and because some of the items had a clear "hippy" and pagan flavor to it but these traits are precisely the ones that will appeal others), there are really some pretty highlights very fantasy inspired like this fairy white lace bridal dress. The dress below is really lovely for a winter fairy.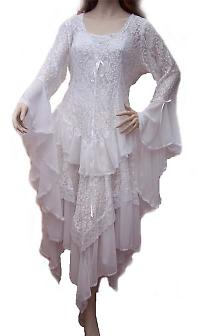 It also feature some alternative wedding veils (some in black for gothic ladies)
There are also some tops with chiffon sleeves in the style of Stevie Nicks that I'd pick for daily wear as they are rather cute as the following. I'm an addict of big flowing sleeves. They have also matching white and dress chiffon petal skirts also very suitable for different styles. Simple, elegant and very useful.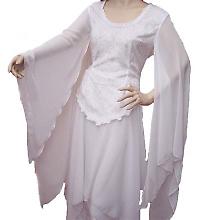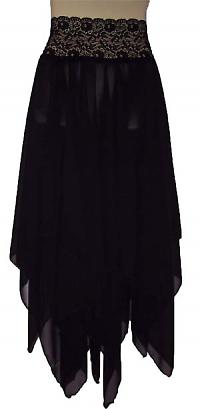 Above: Velvet white chiffon top and black chiffon skirt. You can get both in white and black to match or combine.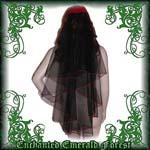 Above: example of black bridal veil
Submitted on 2011/Feb/04