Best Lingerie Line: Cheap but gorgeous corsets to add to your burlesque, fairy and fantasy costumes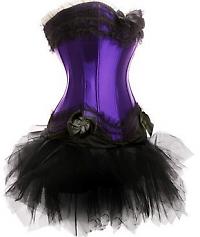 Let´s face it, high quality corsertry is expensive and there´s a reason for it, they're really difficult to make and though we girls are fond of the shape they provide, most of the time they're not the most comfortable item either. So if you're looking for a corset to cinch your waist or even reduce but if you're looking for a nice looking corset or underbust, fancy and and nice looking and sturdy enough to just control your "curves" in place. They have full corsets and underbusts. Best Lingerie store offer a very extense collection of corsets, from bridal to burlesque and thus presents itself as an inexpensive source for brand new and at retail price corsets. Some with vibrant colors that will even do for fairy, burlesque, or even steampunk garments. With solid colors, stripes or floral brocades and plenty of hues and colors to choose from. My only concern is the durability of the fasteners and front clasps but well I intend to buy a white brocade cincher very soon so I shall tell you how it goes!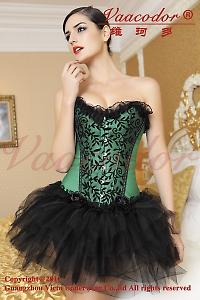 Above: green corset with leaves-brocade in front, ideal for fairies and dryad dresses!
Lately I have a passion for greens... isn't this one great for absinthe and steampunk?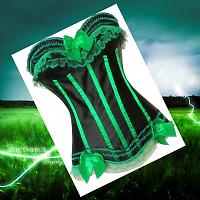 One good thing about the store is that they have large sizes, so if you're not a petite fairy but a generous curvy one you make sure they can offer you up to a 6XL size. Other advantage of the store is that they have not only constant bids so you can grab very cheap bargains but also they have items ready to buy with free shipping, so if you're unsure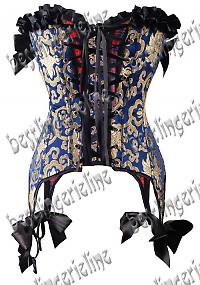 They also have really lovely combinations of corsets plus tutus that will work on gothic lolitas ensembles but also would be a great part of a full gown if wearing over a tulle long skirt. I´ve put my eye in the black, white and purple and black. White is really lovely for angels/snow queen gown, even for bridal fashion!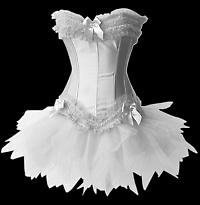 Submitted on 2011/Dec/11