Thyme2dream, Pen Circlets and El Costurero Real: Faerie and Elven circlets
Thyme to dream is a company that design jewelry and accessories for Faeries & Elven Folk. As she says recently discovered that "mortals are fond of them tool" too. In her etsy shop you can find unusual jewelry items~ear cuffs, bohemian wraps (ear wraps), arm cuffs, tiaras, circlets, hair vines combs & twirls, rainbows and other fairy accouterments. Fantasy, Medieval and Renaissance wedding jewelry is her specialty of mine and she´ll be happy to commission an unique item for YOUR special day!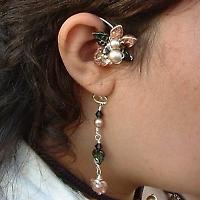 Above: example of ear cuff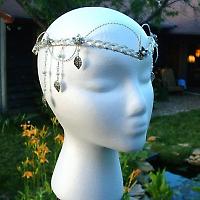 Above:Galadriel elven mithril ivy leaf Headdres
She has several models inspired in LOTR characters like Goldberry and Galadriel made of an adjustable celtic base with a flowing twisted wire accent and lovely beaded drops at the side and looking as lovely as the example above and sturdy enough to hold the veil if you want it for "that" day :)
Her partner Ian also runs another etsy store called Dragon rider with circlets inspired by the Dragon planet Pern created by Anne McCaffrey.
He makes for example some of the following examples like this tiara in wire and suitable also for men and women. Adjustable with leather or ribbon.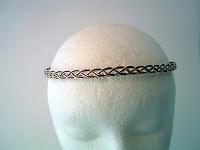 Above: celtic wire circlet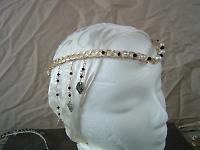 Above: Queen Guinevere circlet model inspired by the 1860 painting by artist James Archer made of wire, pearls and crystals... really awesome and by the way you can custom order in the color you like to match your own dress.
To finish this little selection of circlets and tiaras shops...
In a similar way also my friend and designer Alassie l (yes, she makes mostly garments (AWESOME GARMENTS!! that we previously mentioned in our article about El Costurero Real and that I've myself have worn in several events and official shoots, have a look to our previous article ) but also dare to try with circlets and crowns and she recently launched an etsy store to sell them here: El Costurero Real in Etsy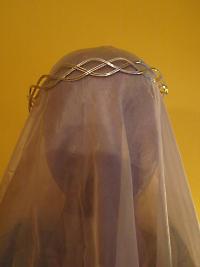 Above: Silver wire aluminum, adjustable, unisex crown-tiara.
And if it´s a very special moment like your wedding and you want to dare with a lovely crown cast in true silver, she list some really affordable and lovely ones like this one.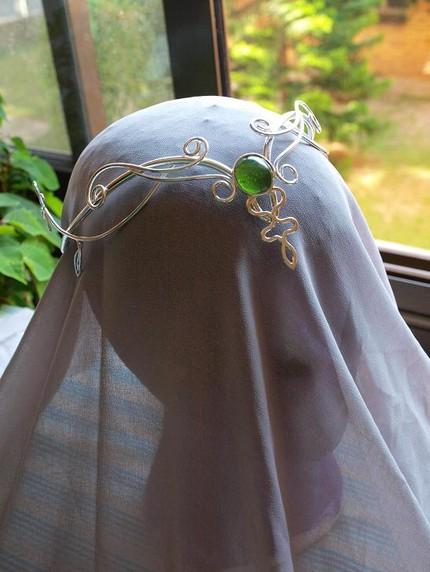 Alassie is also making lately some accessories inspired in the faerie realm using mushrooms, moss and natural elements to create one of a kind fairytale pendants and headpieces. They're insane original and cute!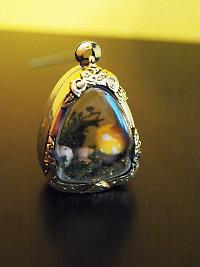 Above: Fairy nest pendant by El Costurero Real
Submitted on 2010/Sep/14