Inner fae creations: Faerie jewelry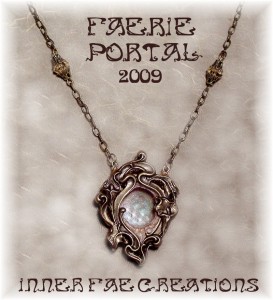 Trisha Leigh Shufett, writer, sculptor and artist  has created INNER FAE CREATIONS, that highlights a lovely collection of  jewelry featuring unique  pendants that would please any  noble fae creature, using brass, copper and antiqued silver filigree and findings, which are then wrapped or used with Czech, German or vintage glass faceted stones. Colourful and catchy it will drive everyone's sight to your necklace! Some are dyed  and aged with special inks that make them look even more mystical. Some with a clear art-noveau influence, others looking more tribal and ancient... gems, beads and iridescent materials build the magic turning some of the models alive as a starry night or the surface of an enchanted pont. Covering the seasons and several nature themes, there are  models devoted to every season, to the light, darkness, pixies, the sea... and other fantasies coming out from the heart of the artist to share with us.
This is another of my  favourite models called "the pixie portal". I love dragonflies...!  I refer a lot to them in my music.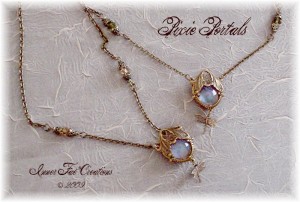 You cannot miss her faerie portal vials, constructed around a glass vial these are  stunning. They are handpainted and surrounded with the finest polymer clay, fired,  and sealed. I like these in particular becuase I've not found anything similar any other place and looks like a feeric carrier of secrets.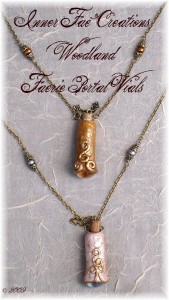 All of these pieces are made  upon request. All you need to do is to contact her from her website to get more details.
There are also some lovely bracelets and also rings  like the following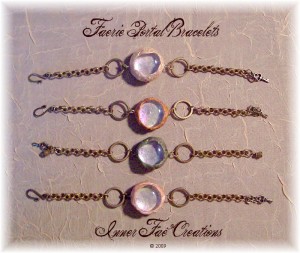 You can watch a rather complete gallery of models here in your fantasy costume. Trisha has a gallery running in this very site so you can see some of her loveliest creations in high resolution in this website.
Watch Inner fae gallery
I'll be the proud owner of one of her pendants soon so I promise to be back with a picture!
Submitted on 2009/May/10