Bags of Avalon: Fairy bags for daily wear
me with my custom bag of Avalon
Morgaine is a german fantasy lover girl that is making now some cute wool bags she's entitled "Bags of Avalon".
I got already two ones in my Pobox, one for me and one for Totonika my hamster (yes for my hamster) and she was so happy as you can see in her own site here. Mine is a cute green bag with ivy and a rose. My fairy-garden bag as I call it... and it has awaken passions wherever I go, cos yes, it has become my daily wear bag LOL... so I had some lovely comments like "it´s so green" "you have a garden bag" or "you got a plant in your bag" and yes.... those are sweet compliments for me LOL... and yes it's green, and it's not that easy being green (as Kermit from the muppets say) but I do do love it LOL. So thanks to Morgaine and her "bags of Avalon" for sending this gift and check her facebook profile to network with her and see her little catallogue there while she prepares a separate shop, she´s selling them over there, she has some cute ones and also can make it custom color. Average price of the bag is only 10 Eur and up and it's obviously hand made (and considering reaction of people around me) certainly eye-catchy. Also it's a cute idea if you know how to hand knit one as they seem rather simple to make if you grab some fake vines or flowers :)

Above: me with my bag of Avalon
Totonika with her custom bag of avalon
Below: Another fairy "bag of Avalon"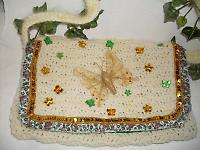 Submitted on 2011/May/03