Ancient Grove: Fairy wear for Dryads as delicate as atumn leaves!

Ancient Grove is an etsy store where you will find accessories, jewelry, clothing and costumes inspired by the natural world and the unseen, ethereal creatures that inhabit it. What really calls your attention immediately is that all items seems to follow the same designing line and use the same forest and natural colors, using high quality fabric and looking delicate as the leaves selves. Most of her items are made of dupioni silk. Dupioni silk is usually made with two different colors of warp and weft. The color of the weft is much more prominent, while the color of the warp shows when the fabric moves and catches the light.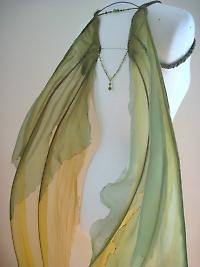 Above: Silk fairy wings
Some of the items are customizable in color, so you can get the complements matching themselves accordingly Look at this pair of fairy wings... first step in a a wonderful dryad dress... for any reason they remind me to the delicate wings Kira the gelfling of the movie The Dark Crystal (my favorite) wear in such film. Flowing and not very colorful... just as I like them!
But matching the same colors, and surfing the store I found this jewel!!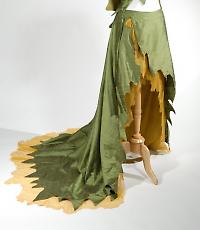 Handmade "Woodland Fairy" silk wrap skirt (yes matching with the wings, and overall impressive! and stunning)
The skirt above is made from %100 emerald green dupioni silk and the entire scalloped hemline is faced with green polyester organza. It is fully lined with amber rayon chiffon that has been burnt at the edges and may continue to fray ever so slightly adding to the ethereal quality of the skirt (this is something that I myself enjoy to do with certain fabrics as sometimes a delicate burn or even only heat can bring up delicate insect patterns to it, or be even more effective to create a fairy "effect" than the standard serge). Amber glass beads have been hand sewn around the front edges of the skirt and on the back train.
There are also little drops of glass beads hanging from the scalloped front. The skirt wraps around the waist and is tied with a silken cord so it's very adjustable and would fit a S to L size. The skirt is quite short in the front and sweeps down in the back in a dramatic trail. It would be perfect to wear as a costume, or even better to wear at your fairytale wedding and would look great with a corset and even a pair of wings. This piece is one of a kind and will never be recreated. Still if the listing is over, contact her cos she´s able to make outstanding models and keep on creating equally outstanding things.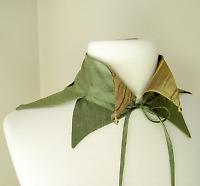 This lovely little pixie collar is perfect for your fairy festival or renaissance fair ensemble, or even to add a little something different to your Spring wardrobe. And as you see what I like of it all is that you can pick things in combining fabrics. This is just so cute!! Made of green dupioni silk with gold polyester crushed organza lining, this collar is so light and comfortable to wear. It ties with silk bias cords and has little amber colored glass bead details. You can also contact her if you have any other custom color request, she has a wealth of silk samples you can choose among and combine.

But the matching items goes beyond category into jewelery as she also design comfortable and lightweight earrings , some made in silk (I love the silk leaves) and others like the following made in dyed leather. Some with holes, other like fallen leaves, other closer to ferns, but all looking natural and very feeric.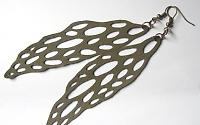 One of the highlights of the shop and I bet because of its quality and affordability probably the best sold item are her customizable leaf cuffs, gracefully shaped as a leaf, it's the perfect complement for your dryad fairy wear. They're comfortable and they lace with eyelets to make it fit so it adapts to your hand shape. You can order it in a wealth of colors. I would not be able to chose from green or brown! but if you realize all the colors are very "season" oriented.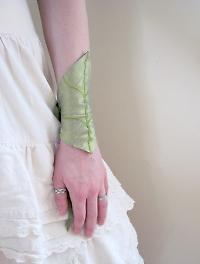 These cuffs are so light and comfortable you can wear them all day and night. They are made from pure dupioni silk and are fully reversible and YOU get to choose the colors. Of course if you're like me, you will want to use these for your daily wear too!! Like a hint of "pixie" which is so much in fashion!.

And well, keep on looking to see what lovely items she keep on uploading, and of course you can also follow latest updates on Ancient Grove at twitter
Submitted on 2010/Sep/14