Flapping socket: amazing mechanical steampunk wings and more!
Flapping socket is the online display of the creative works of Brian Matthews, showcasing mechanical wings, odd inventions and custom items that will delight all steampunk, cyber and fantasy lovers. In the website portfolio you'll find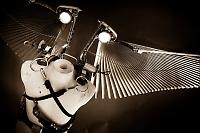 Up there you can see an example in the video but you can see some other examples in motion including some "fairy mechanical wings" in their youtube channel :) wings have been making ergonomic movable mechanical wings since 1999 for performers and fascinated with attaching wings to human form. Oh I wish I could comission a pair for my concerts, snif, because though I confess I'm more into fairy/angel wings, I love the way they move and the clever mechanisms you can see in the videos. It is indeed very inspiring and it's in my actual and favorite bookmarks.
They also have some listings at etsy and you can also network at their facebook page.
Submitted on 2012/Mar/03