Court of the Fey: Wings for magical creatures!

Based in USA "Court of the Fey" is a lovely store run by crafter and designer Paula Herrington that specializes in wings for all kind of magical creatures and also some accessories.
Below: gorgeous Luna Moth and Monarch butterfly fairy wings. <3
Some well known butterfly and moth species are shown in the etsy store and others can be made as custom order or commissioned work in different colours and patterns. You will find also some fantasy-inspired gorgeous leaf-shaped wings (which I loved) and even models inspired in movies (like Maleficent) or unseelie and succubus dragon-like ones. Wings are always a must in fairy conventions, fashion photo shoots and fantasy gatherings... They are waterproof and coated so you don't have to worry if the event is outdoors and it rains. They are delicate-looking but are meant to last and are made of durable materials. Size is just right to be stand out by themselves but not hit everybody in a crowded even. . They wings can either be tied in backpack style, or pushed down into the back of a corset.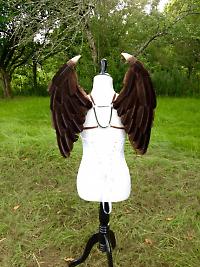 Above: Mini-maleficent feathered wings. I also like these for steampunk lovers. Love the brown natural look to them.
Below: gorgeous set of leaf-fairy wings, maybe among my favourite picks in the store. Perfect for autumn season.!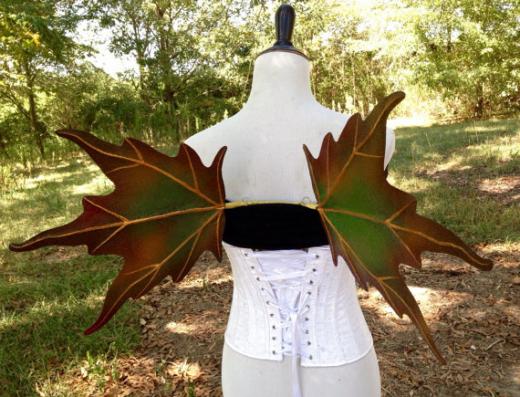 Submitted on 2015/Oct/26