Little wing fairy art: put your wings on and fly!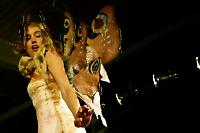 Little Wing Faerie Art based in Eugene, Oregon (USA) is a delightful fairy wing maker. From colorful butterfly wings to twisted almost gothic and mossy patterns like the following gorgeous Autumn wings.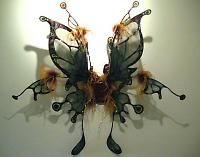 Above: awesome mossy Autum fairy wings. These are so pretty!
Vibrant, unique and gorgeous looking each unique piece go from small retro colorful and almost hippy looking to elegant and fine with more natural hues. Definintely worth to be up to date with the models listed for sale at the store. Different sizes available, small for children, medium to feel cozy at crowdy events and bigger if you want to be Titania self. But as I said, must keep on looking yourself! Light weight, pretty and most of them strapless and designed to fit comfortably with a corset or top.
You can also network in facebook with this crafters in case you want to make a custom order and see more pictures of their previous works.
Submitted on 2011/Jan/12