Dancing Wings: Epic ghostly isis wings
Aside of a selection of isis wings in high quality (taffeta, silk, organza) as well as a selection of smaller sizes for kids. Dancing wings feature a colorful and vibrant collection. I saw them live in faerieworlds festival a couple of years back when we coincided (I was there as performer) and felt very tempted and inclined by then. Recently I stopped in their site again and found their lovely chiffon silk wings (picture below in the article) and felt in love with them! sigh!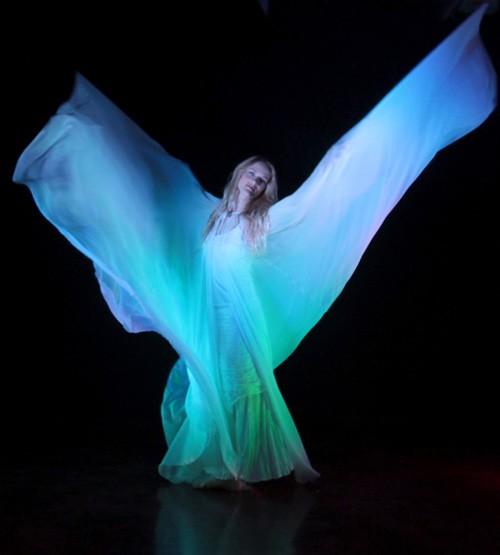 Among all the items listed in Dancing Wings page I need to highlight Silk chiffon cloud wings, without folds they departure a bit from the classical belly dancing and tribal look of the isis wings, these appear to be flowing, diaphanous and almost ghostly and will do also for other feeric and ghostly shoots.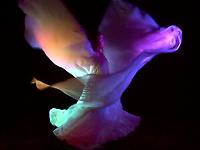 They really look like floating around your body and I bet you can get awesome effects for photography and your garment wether or not you intend to dance with them or not. Simply from another world (I wouldn't mind to try these on stage one day). The photography aside shows like the proper illumination can make these outstanding for a performing show. I do love them., Dancing wings have had the courtesy to send me a sample and I'm dying to spin with them. I'd say it will be a highlight of our next show, add some fog, great to project images on it, and to catch the color of the stage lights... Even if i'm not very good dancer I think they´ll do for me... I'll be a dancing ghost... or a dancing fairy in the mist! Looking forward too to make a shoot in the snow next winter, they´re pure and white...!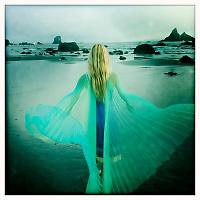 Above:Organza Isis wings... It looks like a siren... so water-like... why is it that every picture I see I come out with ideas for performing... this would be great for my nymph song!!.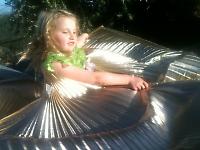 They have also the most classical metal iridescent colors too... and children smaller sizes... your child will love to fly with them!
As a curiosity I'll mention that Dancing Wing's partner site is Songbird Ocarinas, yes they make pretty instruments too, and they have some shaped as bones or a dragon tooth so it matches perfectly the "fantasy" air of the wings site.

Submitted on 2010/Sep/18