Vaisto: Comfortable tribal faery wear from Finland

Vaisto is a half-Finnish, half-Russian team of professional textile madness, operating from Helsinki, Finland (why is it that I lately find so many cool things around Findland? Is it maybe I'm learning to play myself the kantele and jouhikko finnish instrument?. Featuring a collection of high quality pieces from costumes, dresses, bags and going even into jewelry with a touch of "tribal" and "psychodelic" and even infused with a tiny bit of hippy spirit and other influences like native American and even african VAISTO showcases a modest yet lovely and handmade unique designs.
Vaisto is a collaboration of two, sometimes combining their skills for one item but normally dividing tasks as: Koshka - clothes design, sewing, jewelry, modeling Hanni - crochet, jewelry, photo/edit, shop management In their own words her costumes are "inspired by happy dancing people, impulsive flashes of beauty, midsummer-night forest magic, travelling without destination, spots of a leopard & LoveLoveLove of course.. one-of-a-kind clothes and accessories for the inner spirits wandering in the fields of fluorescent fantasy, right across river from the psychonaut-launchpad to outer mindscapes".
The Enigma-collection combines gorgerous silk jacquards with the softest, high quality viscose jerseys serged for organic curl and spiral. The whole collection has a touch of "tribal". Oh I´d love to have this in mossy green, brown or ivory. I particularly love the ivory white arm warmers.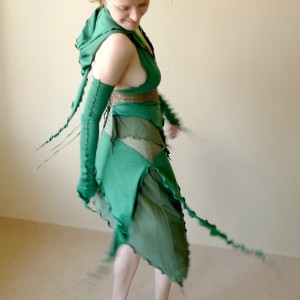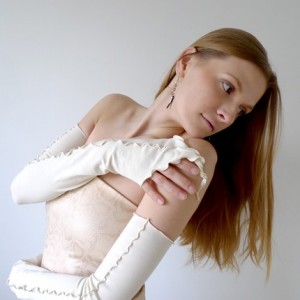 Above: ivory arm warmers (ohhh I really want these!!) along with the hoodies... sigh!
These are not only for faery wear, aside of highlight your inner pixie (wether urban or forest dweller) it can be used too as casual wear. It offers several colors and possibilities of layering them to make your own and unique looking combinations. Have a look and enjoy! You can visit their official site and also their Etsy store.
Submitted on 2010/Jul/11