TribalStyle eco-friendly Jewellry earrings, hoops, fake gauges and pendants

TribalStyle is a store where cultural tribal adornment meets modern day life. They've taken earrings that were originally made for gauged ears, split them and inserted a sterling silver post. Making them available for people who have always admired this tribal style, but could not make the commitment of stretching their ears. Thus they're meant for regular pierced ears.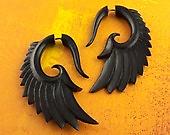 Above: gorgeous "Nava Wings" model hand carved earrings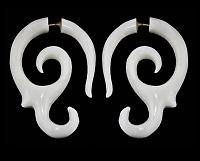 Above: "Graceful curls"among my favorite in white. I really would like these ones for a costume project I have in mind... sigh! :)


The materials used are all natural and eco-friendly.
The earrings are made from wood, coconut, and salvaged bone and horn. With environmental awareness of the material used, the bone and horn used to hand-carve these tribal earrings are from a domesticated water buffalo used for cultivation and food. To minimize waste, they are respectfully used for this form of art and income.
The collection features a long list of designs, from spirals, to abstract swirls and even carved wings. Earrings, fake gauges and hoops, even necklace pendants all hand carved and the design work in some of the models is really impressive. Ideal for tribal and daily wear!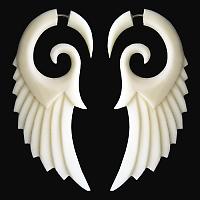 Angel Wings - Bone Fake Gauges - Rathe bone r large model handcarved on both sides . These ones are ideal for "tribal wedding gowns" and really look gorgeous.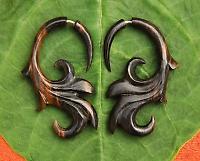 Above: wood earrings... I love these models in brown colors for "faerie" tribal wear. Ideal for
Dryads. These are really cute too.
Submitted on 2011/Feb/10