Some upcoming fantasy events you may not miss!!
Now you have that lovely fairy, fantasy, speampunk garment... but after Carnival is gone... where to show it of? Here we recommend you two lovely upcoming fantasy events to dress up and have fun!!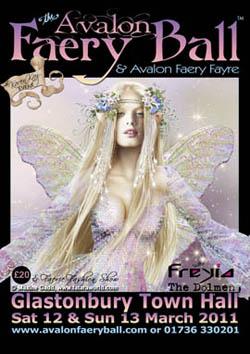 If you happen to be in England next wekend, 12-13th March in Glastonbury (UK) you can attend to the AVALON Faery Ball and the free Faery Fayre. With music of the Dolmen and Freyia and lots of shops (included a stand from El Costurero Real, one of our talented sponsors), crafts and workshops you can attend to with your best fairy garments and get new ones!!!+info and tickets at http://www.faeryevents.com/
Same weekend, other continent...!

March 11-13th of March of 2011 takes place MYTHIC FAIRE IN BALTIMORE (USA).A Celebration of World Creation, Time Travel & Fantastic Realms
Medieval, Steampunk, Faerie, Gothic, Renaissance, Pirates, Celtic and more...
It takes place at Baltimore Marriot Hunt Valley Inn hotel. Shop for beautiful arts, crafts and apparel, meet and listen to internationally acclaimed artists, authors and designers, and enjoy music from bands that collide and fuse cultures, rhythms and melodies throughout the day and at our Masquerade Balls into the night. Arts, Music and Masquerades...!! They feature this year a Time travellers music night with Abney Park.
+ info and tickets at http://renconvention.com
Submitted on 2011/Mar/10