Misfit Leather: everything leather from steampunk to sexy leather lingerie!

Misfit Leather is a shop that gathers a lovely collection of high quality handmade leather items masks, corsets, fantasy armor, and bondage gear to more specialized bj doll accessories. The crafter based in Seattle (USA) was an artist in several fields finally specializing in dance and that skill also influenced the work that you can now see at the store. From armors and bracers for men to the sexiest leather lingerie or even retrofuturistic and steampunk items... Definitely worth a dive in to find out really stunning things to wear like the following. Most items are made to order to your measurements for a perfect fit.
Misfit leather also encourage and welcome custom orders so if you have a dream design that you want to come into life for your fantasy event, fair or film project don't miss the chance!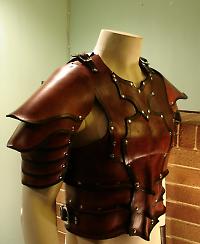 Above: forest elf armor that can be done in a variety of colors though I think brown is my favorite!! Guys you would be so sexy this this!! Grab it!
Misfit leather also list a variety of short wrist cuffs, chokers, bracers... I'll highlight this lovely model bacause of its organic fantasy pattern... ohh i'd love a pair of these for myself :) cute! :)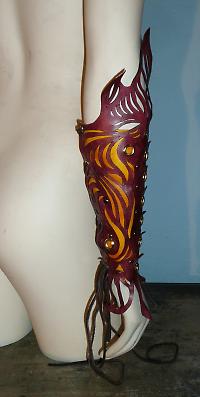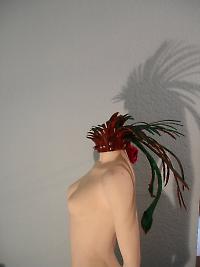 Above: My favorite items :) highlighted this tribal armguard available in black/sinver or brown/gold and leather ruff. Stunning!
For steampunk lovers they list sets like the following that will please your needs and will make you, yes... very very dangerously sexy too! :)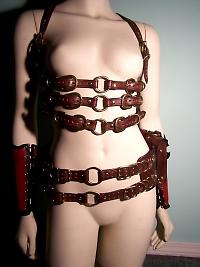 Above: Steampunk adjustable leather harness and belt. The leather is dyed antique mahogany with a reddish tint over the brown. Buckles and D rings are made of solid brass.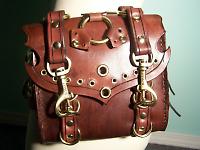 Detail of the steampunk bag of this set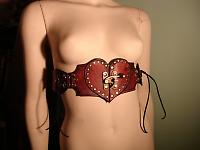 Above: sweetheart belt... in search of an alternative Valentine's gift? The belt that can be used as steampunk, or even as edgy daily wear feathres a heart that closes in halves with an antique brass clasp.
You can network and see a portfolio of past work at their facebook site.
Submitted on 2011/Feb/02